EDIT MAIN
Welcome to Riverside!
---
Welcome to the 2020 - 2021 school year! I am thrilled to welcome you back to school. It is truly an honor for me to move from 3rd Grade teacher to Principal of Riverside Elementary Schools in Oakland and Carson. I have the privilege of working with an outstanding staff that makes the Riverside Community School District a great place to work.
Administrators, teachers and staff have been working hard all summer to provide a safe school environment school and to implement best practices to mitigate the risks associated with Covid-19. Both the Oakland and Carson buildings are utilizing the "bubble," strategy in which students remain in the classrooms for most of the day. This does not mean that they do not have the opportunity to have PE, recess or other specials. Our schedule has been modified to allow for more time for mask breaks, hand washing, and opportunities to access outdoor learning spaces. A stronger emphasis will be placed on social emotional learning as we continue to use the PBIS program in all of our K-5 classrooms.
Riverside Elementary Schools are such a special place to learn and grow. Our students are kind, compassionate, and inquisitive. Together with our dedicated staff, we strive to make connections with students to help them feel valued, accepted, and safe. Our Riverside mission statement of "Inspire, Unify, Achieve," is even more important in our "new normal." Whether we are learning in person or remotely at home, our goal is to encourage active student engagement to foster a lifetime love for learning.
Partnering with families will be crucial this year as we face many obstacles due to the global pandemic. We appreciate your support as you work with students at home to practice safety protocols such as wearing a mask and washing hands. We encourage families to stay connected and informed by following our district website, social media and notes home for important updates and information regarding the school year. Together we can make this year great!
weRRiverside,
Mr. Crum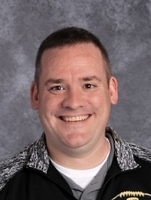 ---