EDIT MAIN
Superintendent Update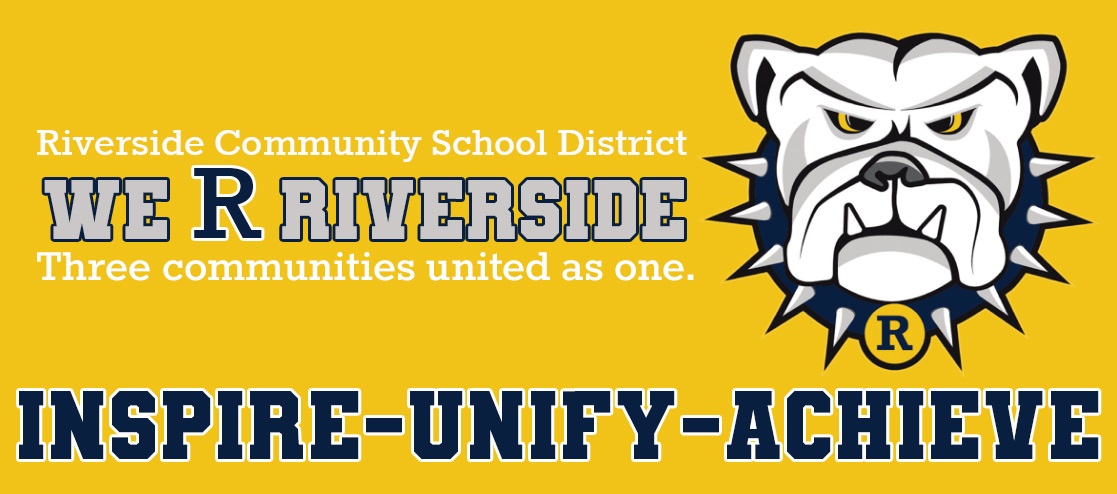 ---
October Update

Superintendent Tim Mitchell
Hashtag: #WeRRiverside
District
Website: www.riversideschools.org
Facebook: Riverside Community School District
Twitter: Riverside Dawgs
Instagram: Riverside Dawgs
Superintendent
Website: www.riversideschools.org–Click Explore-Superintendent
Facebook: Tim Mitchell or Dr. Tim Mitchell
Twitter: tmitchell212
Instagram: tmitchell6885
2020-2021 Calendar
October:
7,14, 21: Early Dismissal – Staff Development
16: End of 1st Quarter-Regular Dismissal
26: Early Dismissal – Parent Teacher Conferences (4-8 pm)
28: Early Dismissal – Parent Teacher Conferences (4-8 pm)
30: No School – Teacher Comp Day
It's Everything Riverside, in your pocket.
Riverside Community School District has launched a new responsive website (Check it out!! www.riversideschools.org) and mobile app that helps students, parents, and community members know what is happening right from their phones. We know that families are using smartphones as a primary means to communicate. That's why we've created an app that is custom-built for mobile. On the app, you can find cafeteria menus, real-time sports scores, contact information for staff, and event information. You can download the app for free from the Apple App Store or Google Play.
Apptegy-New Riverside Phone App
To Download the NEW App:
Apple:https://apple.co/38JFJpUAndroid:http://bit.ly/39Jpj22
COVID-19 General Mitigation Techniques
Daily home screening of students and staff-stay home if sick
Best way to prevent illness is to avoid exposure--Face Coverings required for students and staff-Take frequent face covering breaks when 6ft distancing can be accommodated--with accommodations if needed-Cover your mouth and nose with a cloth face covering when around others
Social Distancing-Signage throughout the building-when possible-Avoid close contact with others-Put distance (6 Feet) between yourself and others
Limit large groups and capacity in large spaces (Cafeteria, Gym and Auditorium)
Routine Hand washing and sanitizing-before you touch and after you touch!!
Avoid touching mouth and nose with hands
Cover coughs and sneezes
Enhanced cleaning every night by custodial staff (CDC Guidance)
Minimize student movement
Limit outside visitors during the school day
Pottawattamie County Public Health and Riverside Community School District have communicated that Three (3) in the Middle/High School Building have been confirmed positive for COVID-19. Contact and location tracing has been completed by the district and Public Health and limited exposure was determined. Any students and staff identified as having primary exposure have been notified and appropriate measures as identified by the Center for Disease Control (CDC), Public Health and the Iowa Department of Education have been instituted. The district continues to utilize all recommended mitigation measures at school to provide a healthy and safe environment for the students and staff.
No students or staff members with major symptoms or a Positive Covid-19 diagnosis are attending school or will be allowed to attend school or participate in activities. We are implementing strict mitigation protocols. We have no evidence of school, or activities spread of COVID-19 all cases have been attributed to been community spread.
I also want to thank Pottawattamie County Department of Health, our school nurse, Meredith Martens, and our Activities Director Darrell Frain. They are spending countless hours ensuring that guidance is followed and that all students and athletes stay safe!!
Pottawattamie County has given the district access to a tool that allows us to check daily the % positive-14 day average for the county. The percentage determines what type of instruction we will provide. As of today (9-25-2020), Pottawattamie County is 10.4% positive-14 day average. That indicates that we will provide Traditional Face to Face/Hybrid Instruction with the options for parents to request approval for Remote Learning.
You can access this information at: https://coronavirus.iowa.gov/pages/percent-school-district-positive-analysis
You will see that decision points are at:
0-5% None to Minimal
6-14% Minimal to Moderate-Where we are at now
15-20% Substantial Controlled
>20% Substantial Uncontrolled
Decisions are based on the %, student and staff absenteeism and in collaboration with local and state Public Health and the Iowa Department of Education. Please find the Riverside-Return to Learn Safely and Responsibly Plan with more information in this Newsletter.
2020-2021--Five Key Ideas as We Navigate COVID-19:
Flexibility-Every school must have multiple plans ready. Schools need to be ready to switch from one plan to another quickly.
Individuality-The risk for one family can be much difference for the rick of another family. Schools will expend a lot of effort accommodating families.
Acceptance of "Good Enough"-This will be a different year.
No "normal" curriculum will be covered and something will be left out. Emphasis should always be on the skills of Literacy and Mathematics.
Patience-This is not going to be easy on anyone. We need everyone to be patient. Everyone needs to be patient with each other as we work though this difficult time.
Riverside Hall Of Fame-Class of 2020
The Induction Ceremony was held on Thursday September 24, 2020, inductees were also honored in our Homecoming Parade in Carson and at the Homecoming Football Game. See pictures of the inductees included in this newsletter
Richard (Dick) Harris-Employee-Oakland-Riverside 1950-2005 and Distinguished Graduate-Oakland Class of 1942
Donald E Kash-Distinguished Graduate-Macedonia Class of 1952
Bret Keast-Distinguished Graduate-Carson/Macedonia Class of 1984
Merle Larson-Employee-Oakland-Riverside 1985-2008
Veva Larson-Employee-Carson/Macedonia-Riverside 1982-2010
1949 Oakland Girls Basketball Team-Coach O. E. Lester
Current Open Positions: 2020-2021 School Year
Fall 2020
Bus Drivers
Substitute Bus Drivers
Winter 2020-2021
Middle School Girls Basketball
Assistant High School Wrestling
Assistant Middle School Wrestling
Student, Parent, Employee and Activities Handbooks
We have a link on our new website for easy access to our Handbooks.
Directions--Go to website www.riversideschools.org
Click on Explore-Click on Documents-Click on District and Click on Handbooks
You can also request a digital copy by email
Please feel free to follow me on social media at Tim Mitchell or Dr. Tim Mitchell on Facebook, @tmitchell212 on Twitter or tmitchell6885 on Instagram. I would also love to come and talk to any group about things happening in our district. If you need to contact me about school issues, please call at 712-484-2212 or e-mail at tmitchell@riverside.k12.ia.us.