For Immediate Release
9-15-2020
Contact: Tim Mitchell, Superintendent for additional Information
712-484-2212 or tmitchell@riverside.k12.ia.us
Riverside Community School District Hall of Fame-Class of 2020
Induction Ceremony
It will be held on Thursday 9-24-2020 at 4:00 PM (Note Change) at the Auditorium at the Middle/High School at 18997 Hwy 59, Oakland, IA
Event Protocol
If you currently have any COVID-19 Symptoms or have been in contact with anyone with a confirmed COVID-19 diagnosis in the last 14 days--Do Not Enter the Building. You are required to self-monitor.
Self-Monitor your temperature--If it is 100.3 or higher--Do Not Enter the Building. You are required to self-monitor.
You are encouraged to bring or use the hand sanitizer provided and disinfect hands on a regular basis-Excessive Hand Washing or Sanitizing is Encouraged.
You are encouraged to disinfect touch surfaces before and after use. Maintain Social Distancing (Six Feet) with others in the building or wear a cloth face covering if distancing is not possible
You are required to wear a cloth face cover. You can provide your own or the district will supply one for you.
Inductees can invite Family and Friends-Public will not be allowed-Event will be live streamed on Internet
Each Inductee or their representative will be asked to give remarks-Please limit to 5-7 minutes
Parade
Will be held on Friday 9-25-2020 at 2:00 PM-Inductees can choose to ride in a vehicle in the line-up. This year the Parade is in Carson, IA
Football Game
Will be held on Friday 9-25-2020 at 7:00 PM-Inductees will be introduced in front of the grandstands at 6:30 PM. Please be at the Athletic Complex by the Concession Stand by 6:15 PM for lining up. Family and Friends can accompany the inductee in front of Grandstand. All inductees Family and Friends are admitted free to the game.
Richard (Dick) Harris-Employee-Oakland-Riverside 1950-2005 and Distinguished Graduate-Oakland Class of 1942
Dick Harris graduated from Oakland High School in 1942. He also attended Wentworth Military Academy from 1943-44 and played football. He served in the United States Military during World War II (1944-1945). After his military service he attended the University of Nebraska-Lincoln where he played football, majored in Physical Education and Coaching and graduated in 1950. In January of 1951 he assumed teaching, coaching and athletic director duties for Oakland. He had several highly successful teams and won numerous coaching awards during his tenure. He served the Oakland and Riverside schools for 55 consecutive years (1950-2005)
Don E Kash-Distinguished Graduate-Macedonia Class of 1952
Don E Kash was born and grew up in Macedonia. He graduated from Macedonia High School in 1952 and left to join the Army in 1954.. He enrolled in the University of Iowa in 1956 and received three degrees: BA, MA & PhD. He has served on the faculties of six major national universities. From 1978-1981 he headed the division of the US Geological Survey that regulated an annual $25 billion of energy and mineral activities on Federal and Indian Lands. Since retiring in 2005, he spent some time involved in local farming activities in the Riverside area. The Don Kash Family Trust has been recognized by several conservation groups.
Bret Keast-Distinguished Graduate-Carson/Macedonia Class of 1984
Bret Keast grew up on the family farm east of Macedonia. He is the son of Ed and Dora Lou Keast. He graduated from Carson-Macedonia High School in 1984. He then attended Iowa State University from 1984-1989 graduating with Bachelor of Science degrees in Community and Regional Planning and Speech Communication and a specialty in Architecture. He then received a Masters of Urban Planning degree from the University of Kansas in 1995. Bret developed a park master plan for the City of Carson, the zoning ordinance for the City of Oakland, and has provided park planning and grant consultation to the City of Macedonia and the Pottawattamie County Historical and Preservation Society.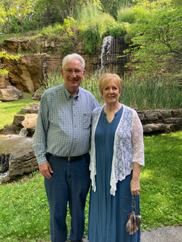 Merle Larson-Employee-Oakland-Riverside 1985-2008
Merle Larson served as the Oakland Band Director from 1985-1993. He then was the Riverside Band Director from 1993-2008. He directed the 6th-12th Grade Band, provided private lessons and directed the Jazz Band. His musicians and Bands acquired numerous #1 ratings in all categories at local, regional and state competitions.
Veva Larson-Employee-Carson/Macedonia-Riverside 1982-2010
Veva Larson served as the Carson-Macedonia High School Home Economics Teacher and FFA/HERO Advisor from 1982-1993. She then continued in that position in Riverside until her retirement in 2010. Veva has been an active member of the community and contributed her talents in many ways. Her dedication to church, pride in the Riverside community and music has been apparent throughout her entire life. She still volunteers time instructing CPR to Riverside students.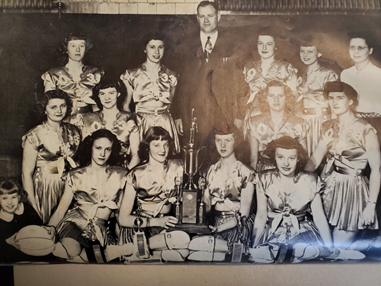 Front Row: Vickie Lester, Joan Danker, Maryann Jensen, Patty Green, and Donna Rae Taylor
Second Row: Barbara Carspecken, Frances Calhoon, Wilma Kindhart, and Marilyn Myers
Top Row: Ferrel Davis, Mary Robinson, Coach O. E. Lester (Career Record 301-66), Mary Ann Taylor, Shirley Hodge and Mrs. O. E. Lester
1949 Oakland Girls Basketball Team-Coach O. E. Lester
The 1949 Oakland Yellow Jackets Girls Basketball Team was the first ever Oakland girls team to qualify and play in the state tournament. The team finished in 2nd place in the 1949 IGHSAU State Basketball Championship played at the Drake Field House. They beat Keswick 41-36 in the semi-final and went on to be defeated by Wellsburg 56-40 in the championship game. The 1949 IGHSAU tournament summary video is featured on YouTube where you can watch the Oakland girls compete in the semi-final and championship games. The team was coached by O. E. Lester.