PK - 5 Concert tonight at the MHS PK - 2 6:30 p.m. 3-5 7:15 p.m.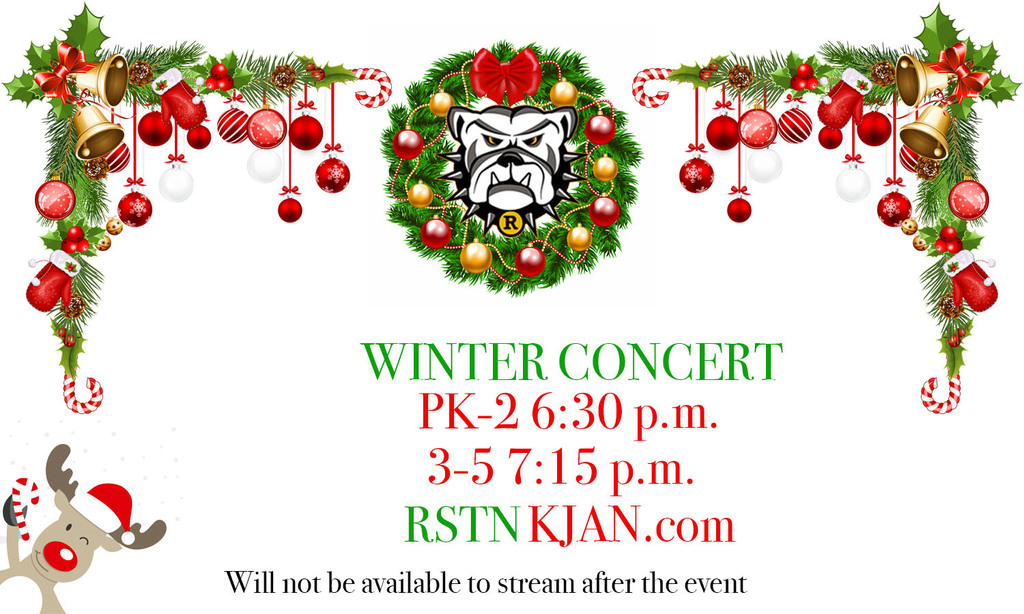 This week's Teacher Spotlight is shining on Mrs. Houser and Mrs. Shellberg. Mrs. Houser is thoughtful and always smiling. She is very nice and friendly when you talk to her. Mrs. Houser is a really great math teacher, and she pushes her students to do their best at all times. Mrs. Shellberg is kind and helpful to all. She goes above and beyond in all that she does. Mrs. Shellberg brings joy in the room, and she is always there for students. Also of note, this is Mrs. Shellberg's last week as a para educator at the high school. She will continue to drive bus for Riverside which we are thankful for. However, we will miss her presence in the classroom. Thanks for your dedication to our students Tammie, and enjoy semi-retirement! :)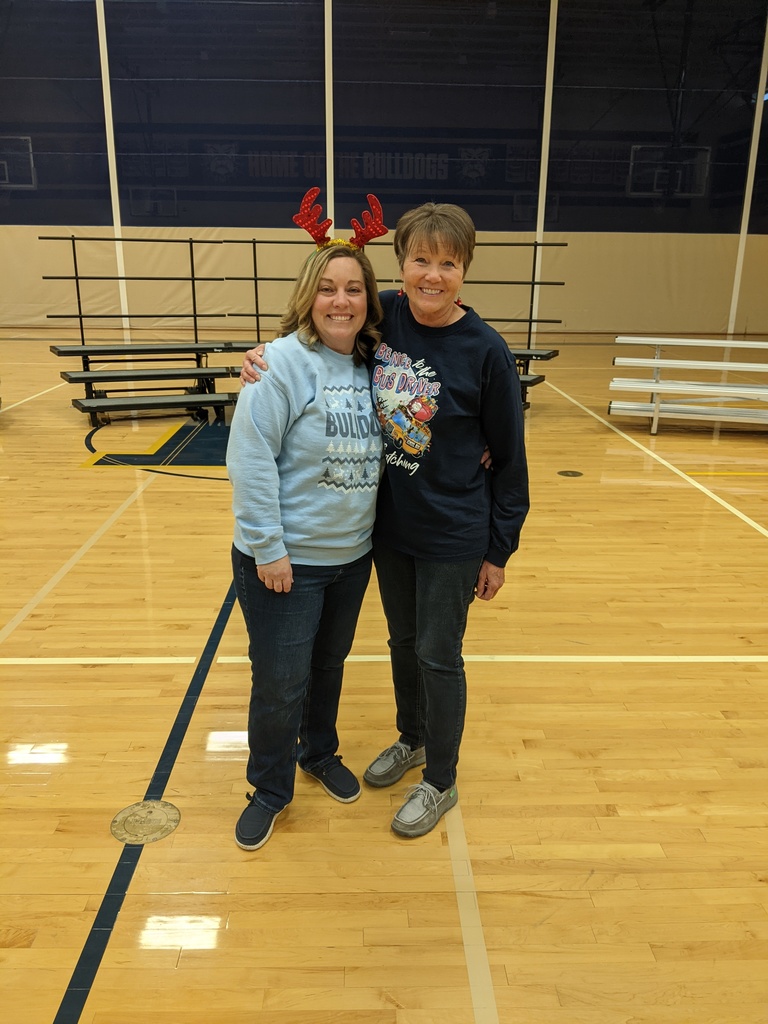 PK-Grade 5 Winter concert starting at 7:00 P.M.
https://tinyurl.com/279yf5t2
Concert will only be live streamed, it will not be available after the concert is completed.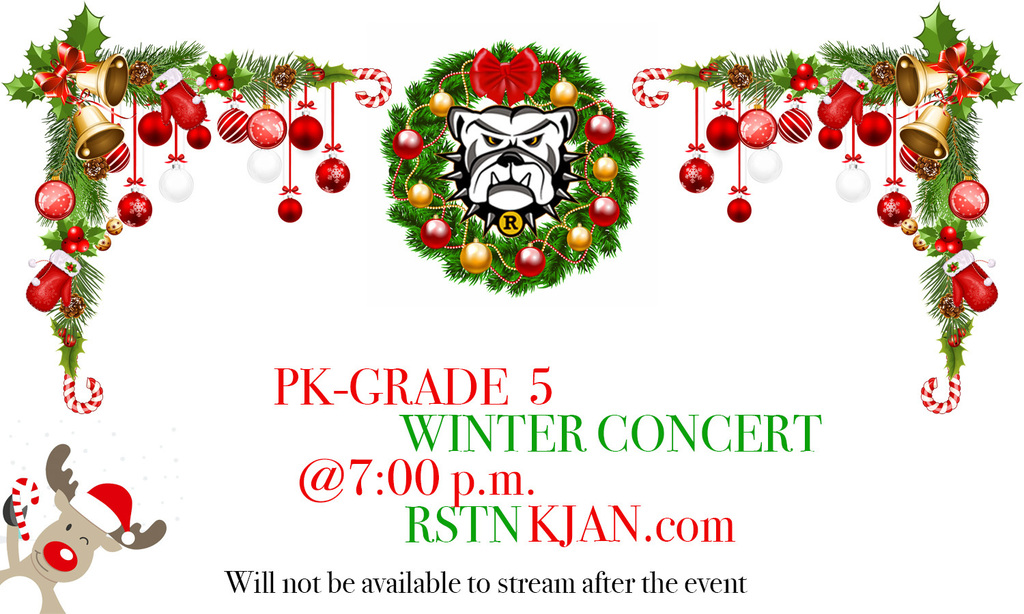 No zero hour weights tomorrow (12/19) or Tuesday (12/20). #WeRRiverside


High School band and vocal concert starting at 7:00 P.M. RSTN
https://tinyurl.com/279yf5t2
Concert will only be live streamed, it will not be available after the concert is completed.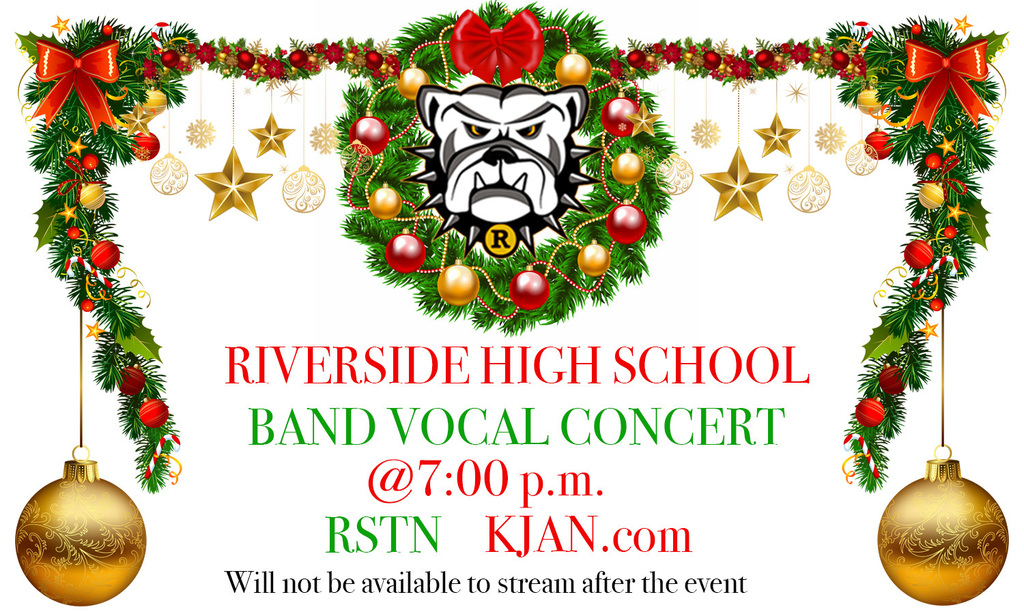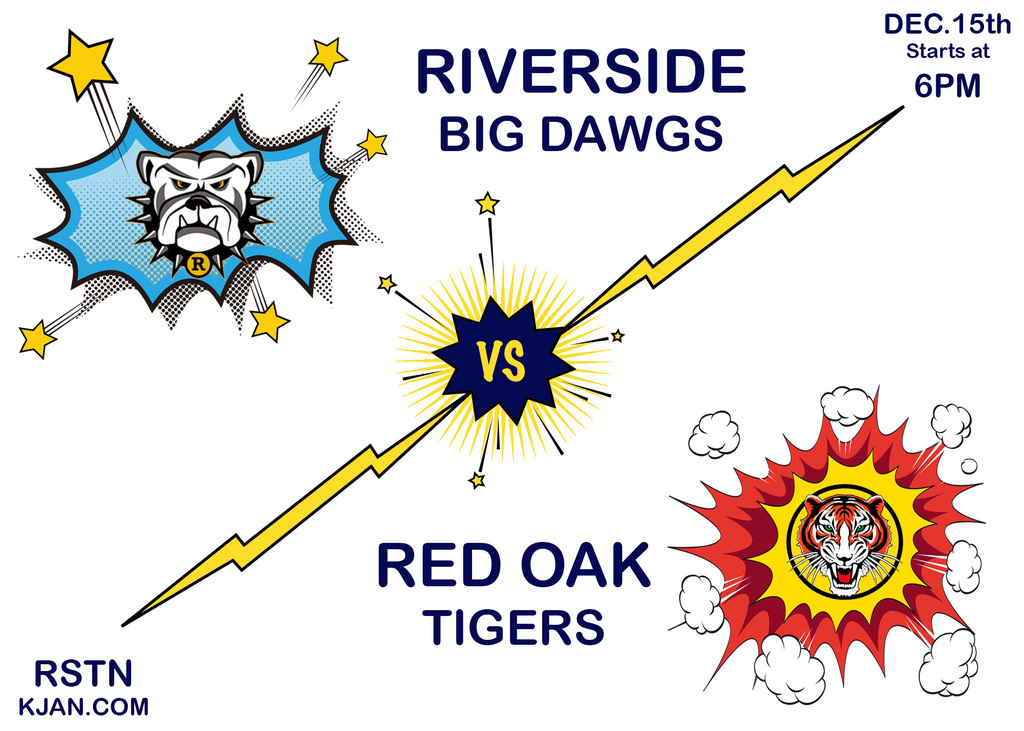 Riverside students Ayden Salais, Lili McCready, Grady Jeppesen, Emma Gordon, Kellen Oliver, & Bentley Rone attended the WIC Student Advisory Committee today. They attended sessions put on by the IHSAA, exploring ideas around leadership, the values of sportsmanship, & mindfulness.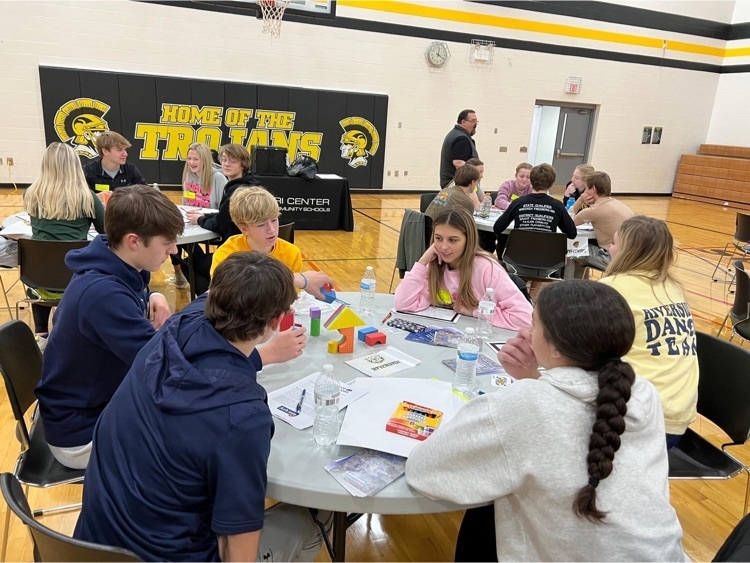 6th-8th Grade Winter Concert starting at 6:30 p.m. RSTN
https://tinyurl.com/279yf5t2
Concert will only be live streamed, it will not be available after the concert is completed.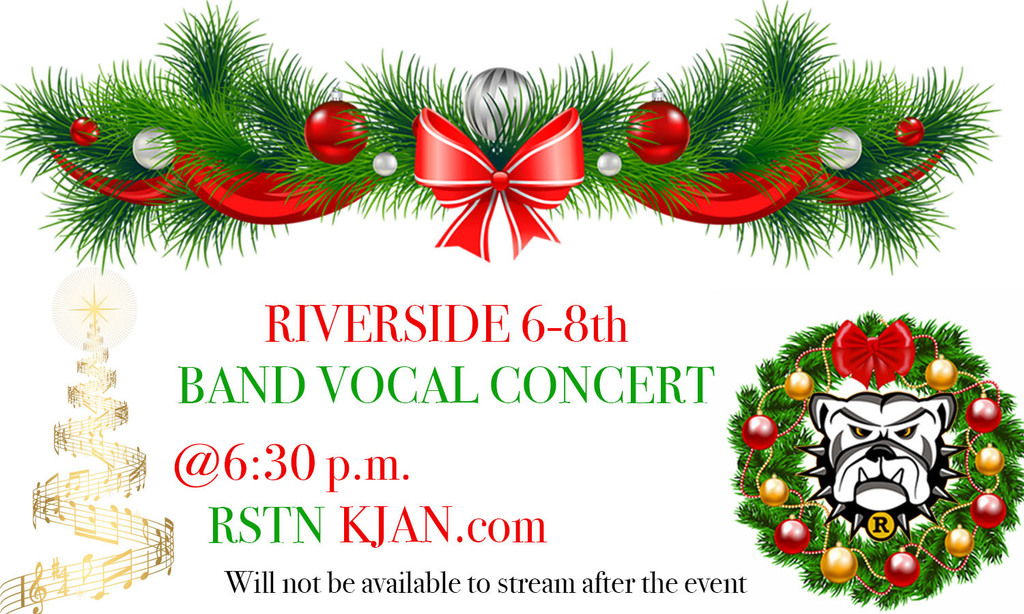 Congratulations to the MHS Top Dawgs for the month of December! Kim Smith: Kim has gone above and beyond this year with taking multiple challenging classes that will prepare her well for her post high school plans. Kim has worked hard on creating an Optimist club at the high school. Cole Simmons: Cole is a patient and caring person in our school. Cole takes the 6th grade classes down to PE during the day, and he does a great job of explaining the expectations to them. Cole has also been a huge part of our fine arts programs, and we appreciate all his dedication and hard work. Courtney Kvaal: She is a kind, hardworking student. She puts forth effort in all that she does and is kind to all her peers Paden Schechinger: Paden is a young man that dedicates much time to his studies and activities. On top of that, he is a kind student that exemplifies our Bulldog Values! #WeRRiverside

Do you have winter gloves laying around that you would like to put to good use? Donate them to the Junior High Stuco's winter glove drive! #WeRRiverside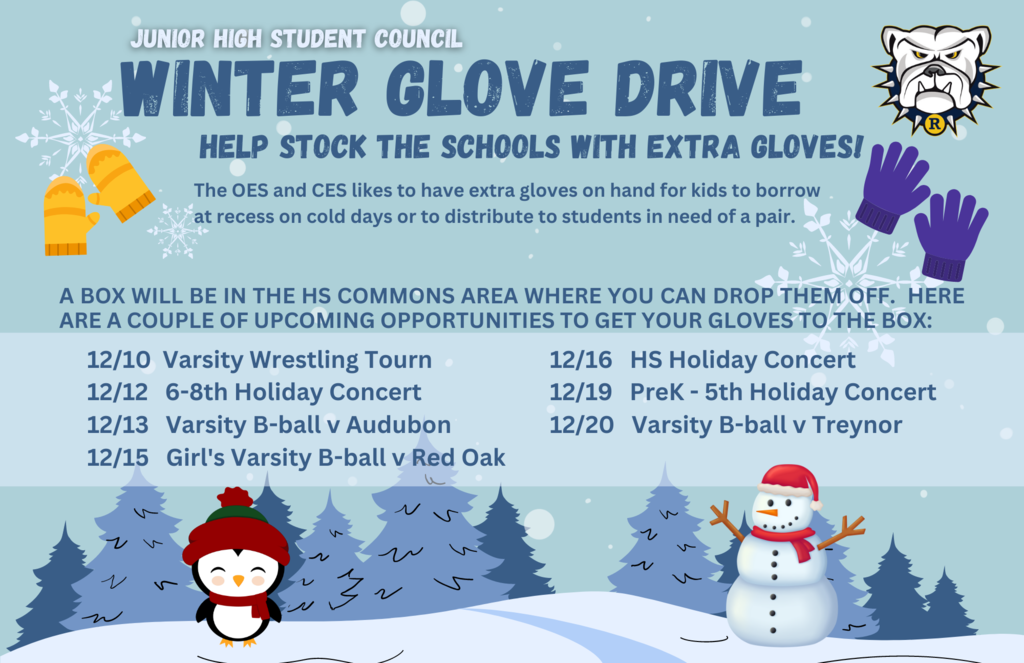 The Student Council held a food drive the week of Dec. 5th-9th. All school buildings collected donations. They also collected monetary donations from businesses and community members that were donated to the food pantry as well. On Friday, December 9th, the Student Council delivered items and donations to the food pantry. The final collections for food items totaled 2,532 items and over $3,000.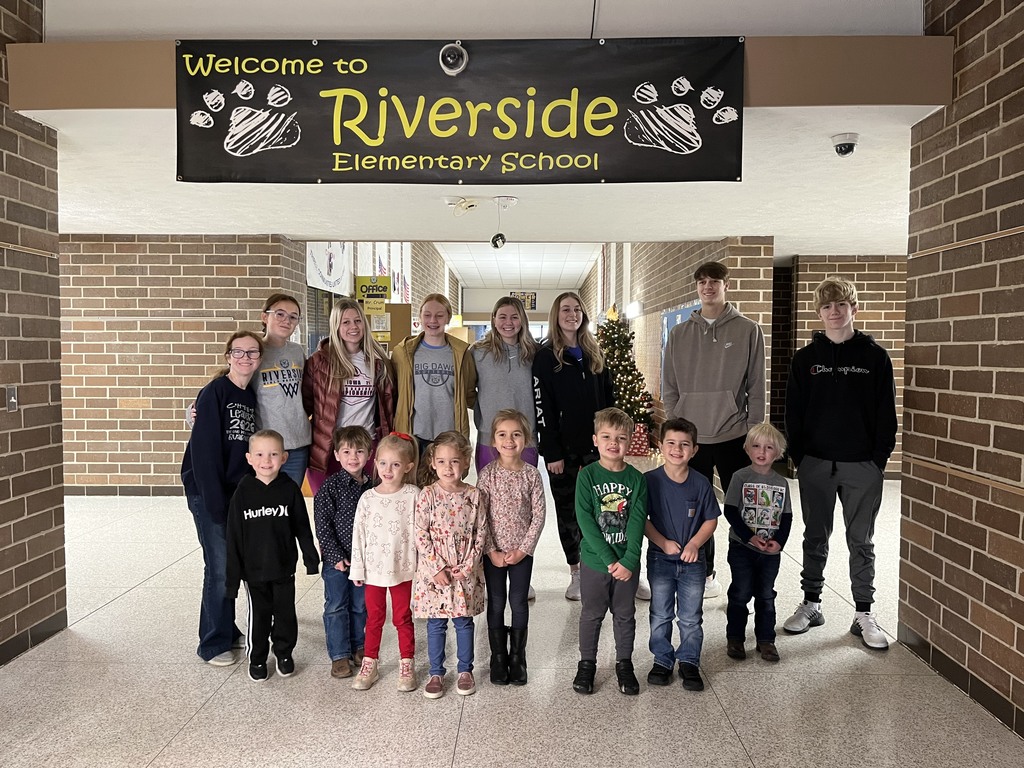 The Student Council has created dress-up days for the week of December 12th-16th to add some fun and spirit to the end of the semester. See image for specific dress-up days that week and join in the fun!

Riverside Girls' Wrestling at home

Home Basketball tonight.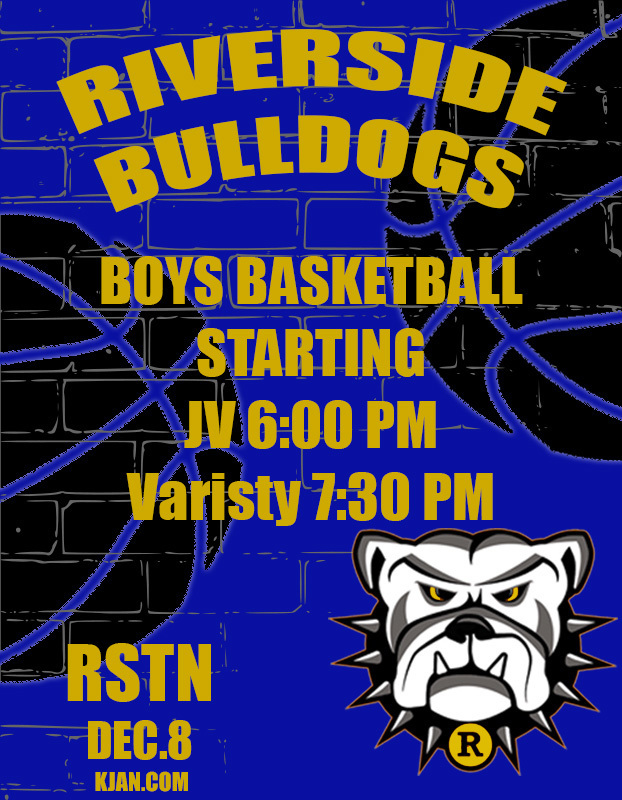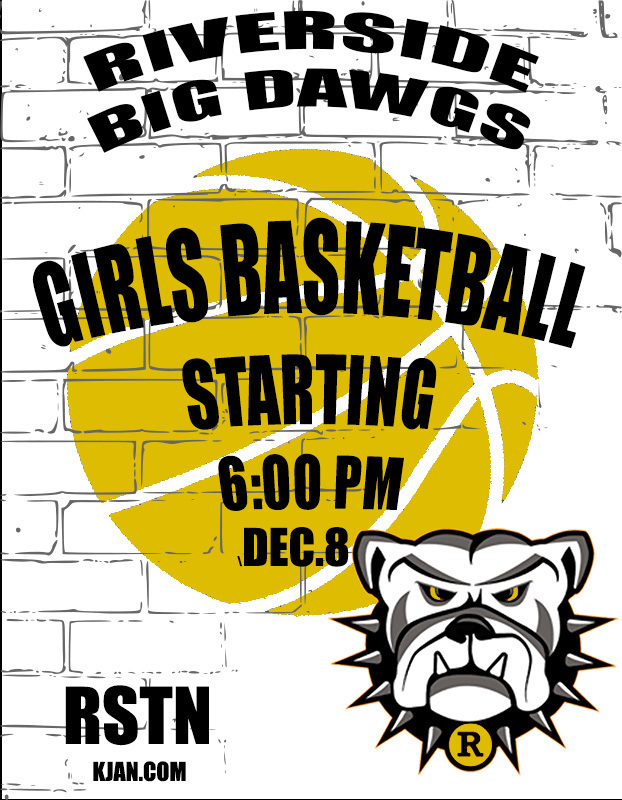 Tonight's MS boys basketball vs. IKM-Manning & varsity boys wrestling at Audubon are cancelled. Boys & JV/Varsity boys & girls basketball games vs. Missouri Valley are still a go. #WeRRiverside
The HS Student Council is hosting a food drive December 5th-9th. Items for donation can be sent to school that week. If you would like to make a monetary donation, please send them to the HS and make checks payable to Riverside Food Pantry. Our goal is 5,000 items and $5,000.

This week's Teacher Spotlight is focused on Ruth Hardy and Moni Eckert. Mrs. Hardy is a light-hearted teacher that is always smiling in the halls. She knows how to make students happy when they need it most. She makes us feel welcome and is always fun to have conversations with! Moni Eckert is always a friendly face to all. She does amazing things for our school in all her work. She keeps lunch running smoothly, and she is nice to all students. She is a great lunch lady, and we are thankful to have her in our school! Keep up the great work Moni and Ruth!!