Riverside Academic Awards Night and NHS Induction Ceremony! May 10: Meal @ 6:00 pm Ceremony @ 7:00 pm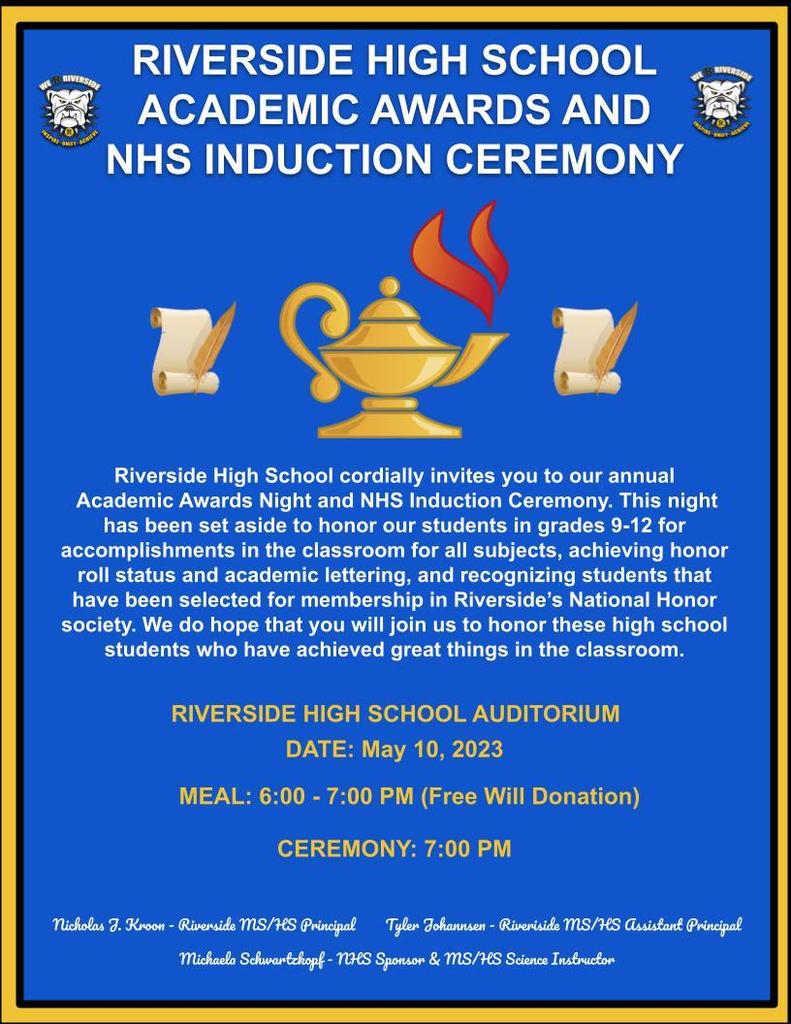 Riverside hosts the WIC Junior High Track Meet on Thursday, May 4th. Please note: cash admission is $5 for all spectators. Other information is below! #WeRRiverside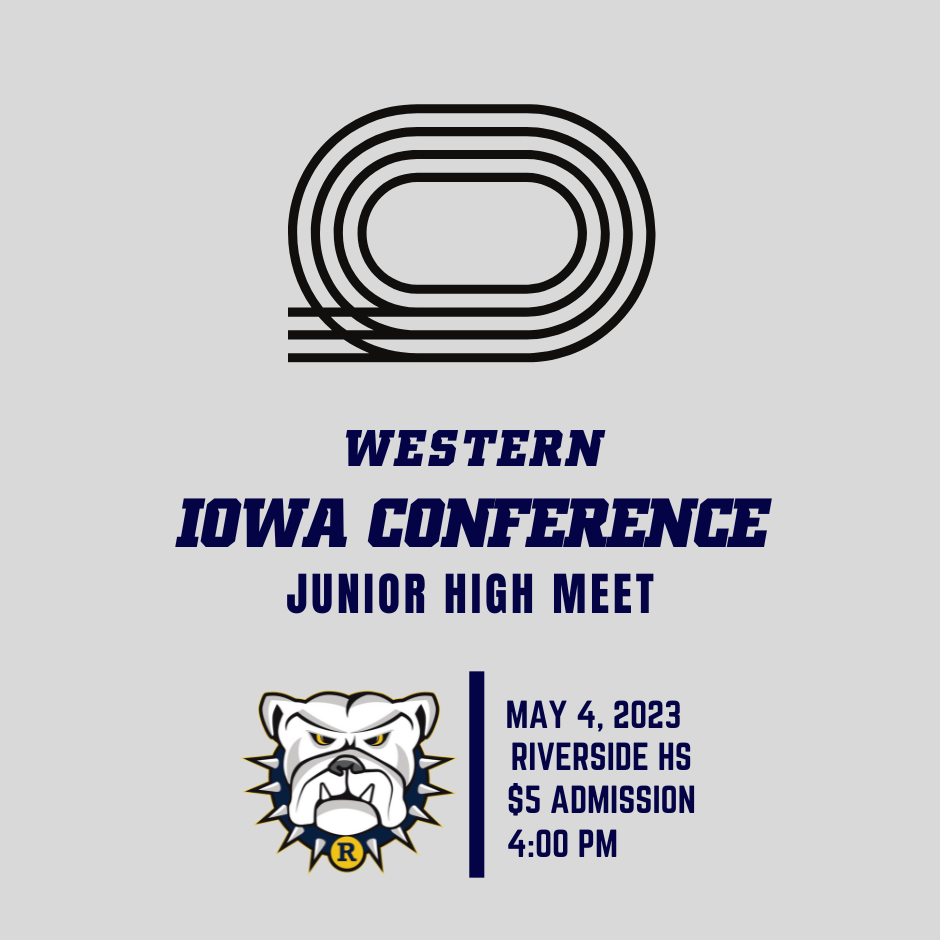 See some great art exhibitions from the WIC students, including Riverside's best! Treynor High School Saturday, April 29, 11:00 a.m. - 1:00 p.m. Sunday, April 20, 12:00 p.m. - 2:00 p.m.

It's prom week at Riverside! Congrats to this year's court. Join us Saturday for Grand March at 6 pm at the MHS auditorium! #WeRRiverside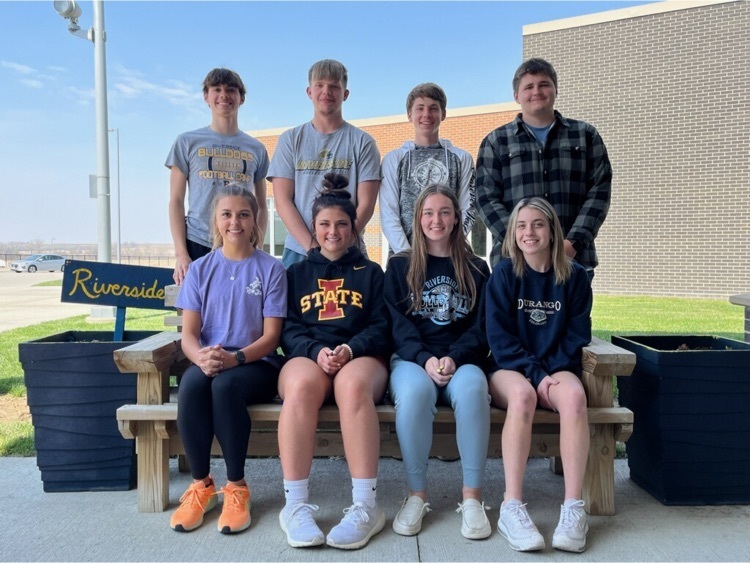 Happy Administrative Professionals' Day! We have some of the best around!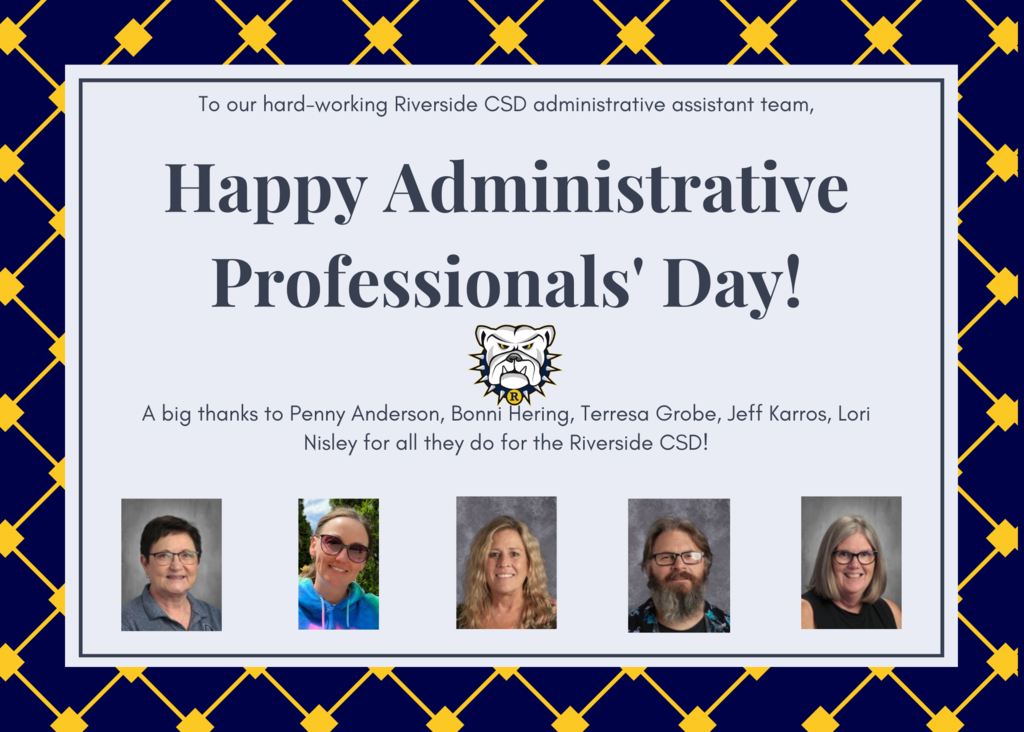 Today is Bus Driver Appreciation Day! Thank you to all of our transportation staff who work hard to get students to and from school and activities. Many of the things our students and staff do would not be possible without our drivers! #WeRRiverside

Chyan Rains competed in the Southwest Region Special Olympics on April 19th at Iowa Western Community College. She placed 2nd in the softball throw and was the champion in the 1500m run in her divisions. Her 1st place finish in the 1500m run has qualified her for the State Special Olympics Summer Games in Ames on May 27th. Good Job Chyan! #WeRRiverside

Next week, MHS students will be taking the Conditions for Learning survey. This survey collects data that helps us improve school safety, student engagement, and the overall learning environment. The MHS has an incredible student services staff that works to meet our students' physical, emotional, and mental health needs each day at school. Thank you to these individuals who serve our students! If you would like more information on services available, please contact the MHS at the phone number listed below. #WeRRiverside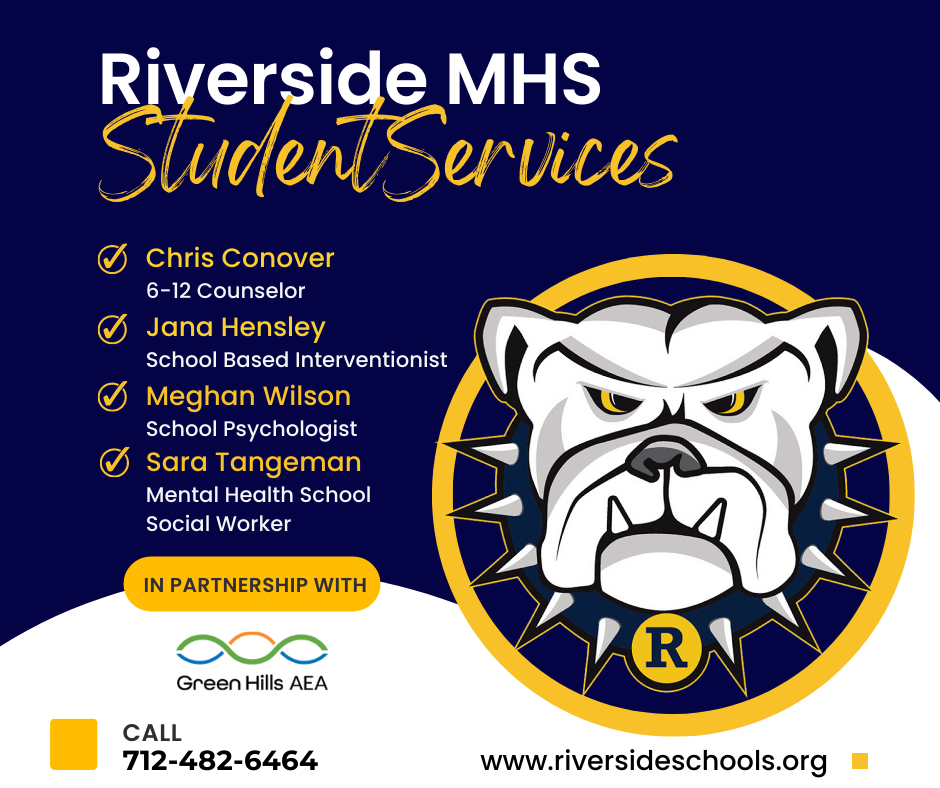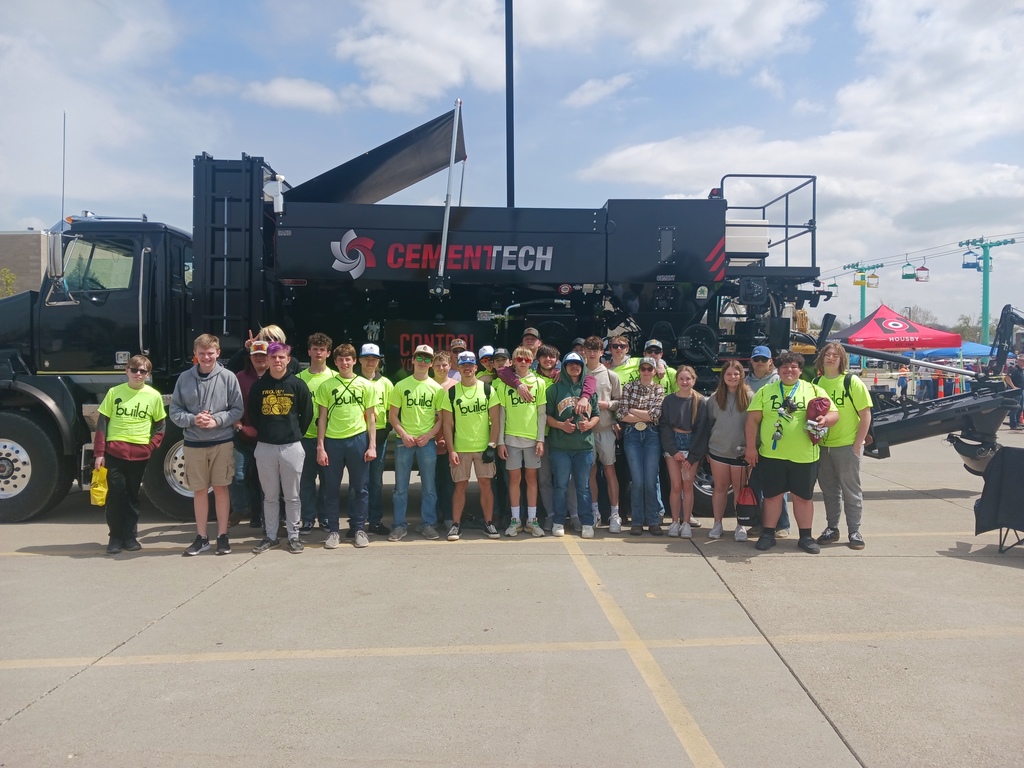 Congrats to March Top Dawgs! Recipents with nominators words are below! Veronica A (not pictured): Veronica comes to class prepare and ready to work. She always gives 100% and is always assisting her peers. She is full of Bulldog Pride! Molly J: Molly shows up every day ready to work on her assignments. She is polite, respectful and trusthworthy. Caden F (not pictured): Caden is always willing to lend a hand when someone needs help. Deagan H: Degan is an excellent student. He works hard in class, listens to instruction, and does a great job working with others as well. Berkli P: Berkli is a hardworking, kind student. She embodies what it means to be a Bulldog and is always willing to help out and does so with a smile. Owen F: Owen has had an outstanding 8th grade year. He works extremely hard in the classroom and in activities. He is kind to others and treats all people with respect. #weRriverside Inspire-Unify-Achieve




Pop up Riverside Art Show Saturday, April 22, 2022 Destination Coffee, 10:00 a.m. - 12:00 p.m.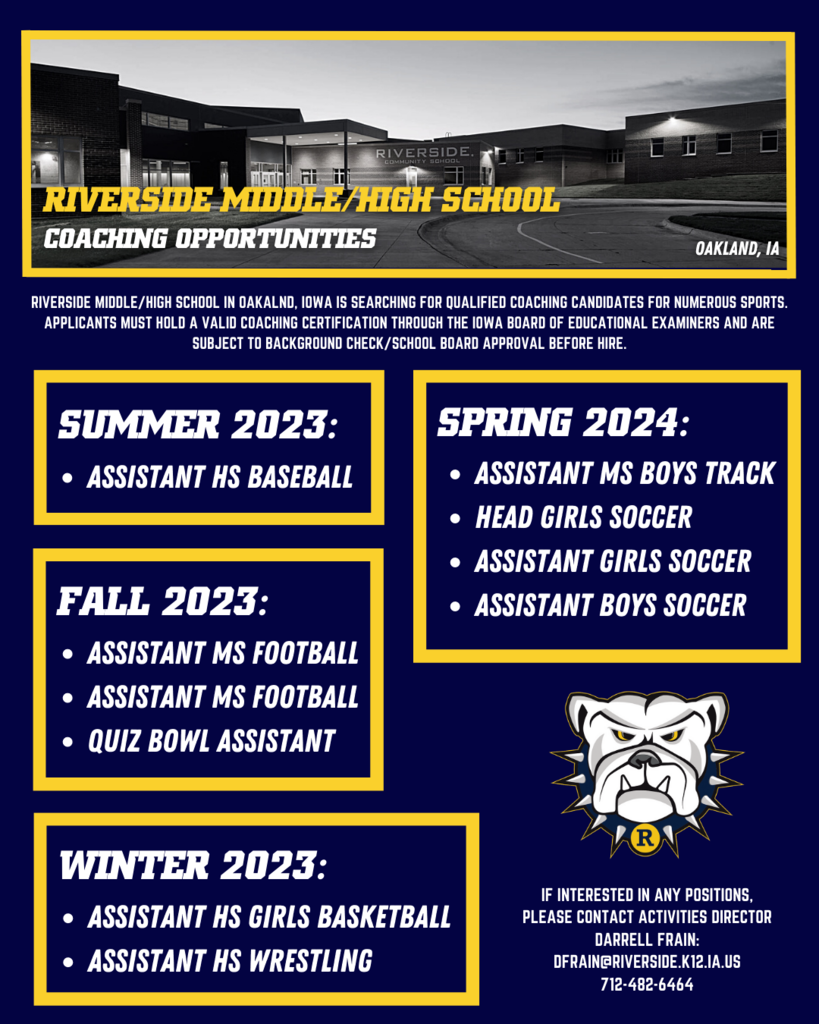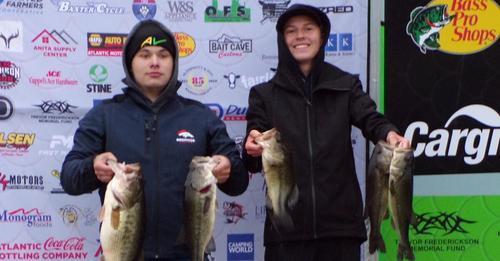 Great Food and Fundraising Opportunity for the Riverside Foods class! Wednesday, April 19, 2023 11:00 a.m. - 1:00 p.m.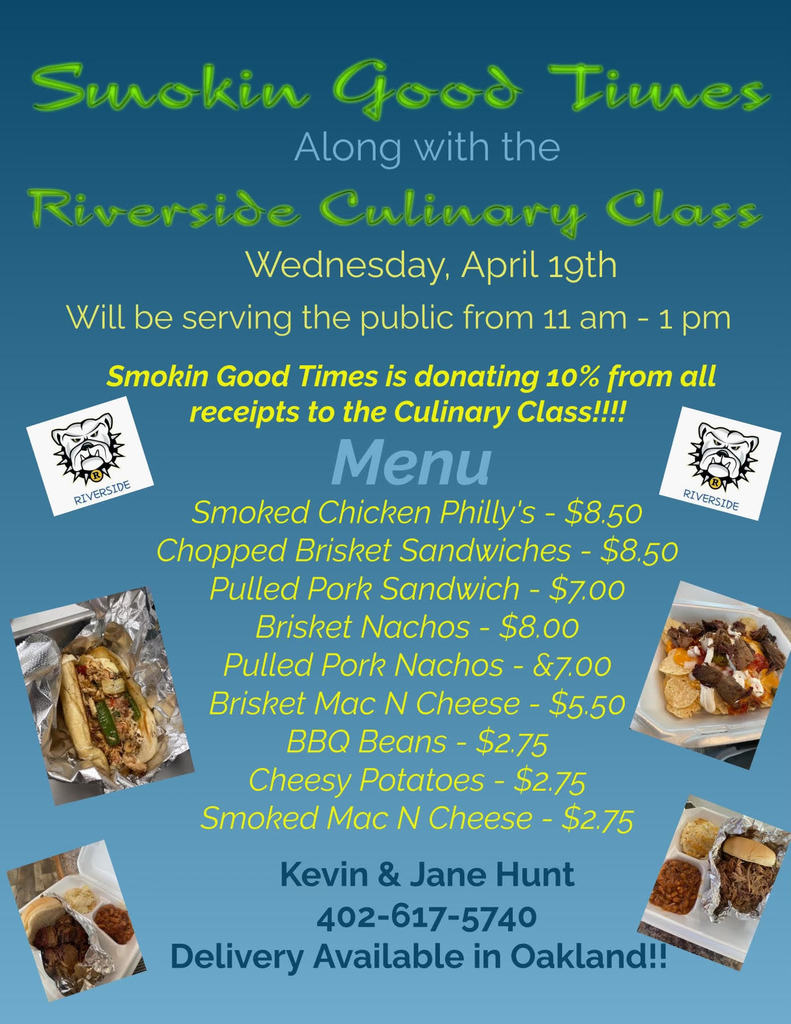 Youth Volleyball Camp Registration is now open. See attached flyers for details. June 26th-28th at the following times: 4th-6th grade from 5-6:30 and 7th-8th grade from 6:30-8. Cost is $20. Register by May 15th to guarantee a camp shirt.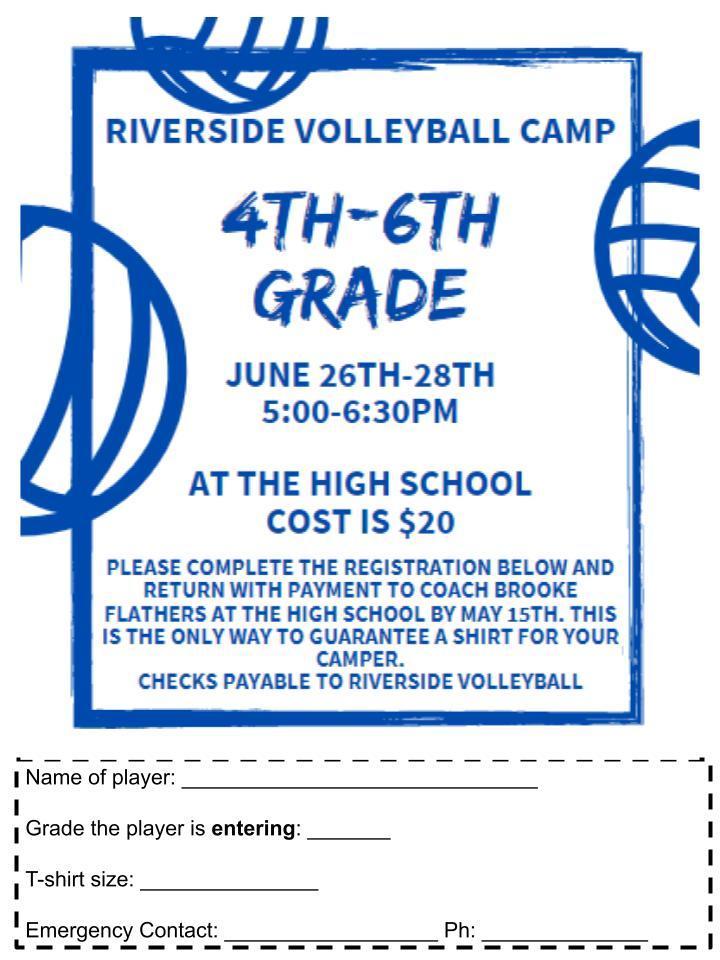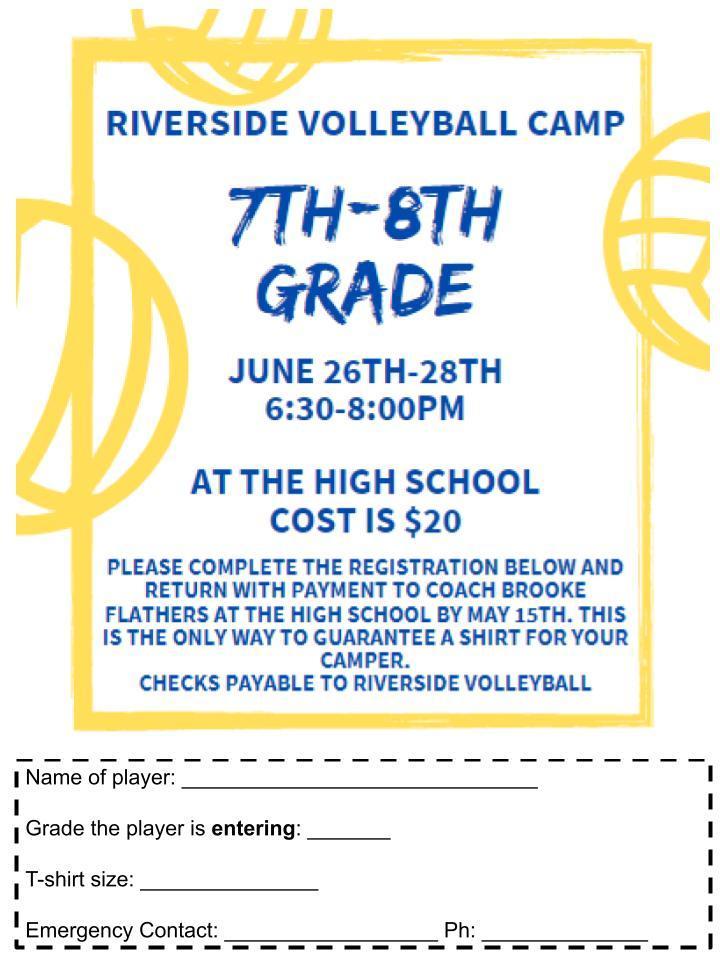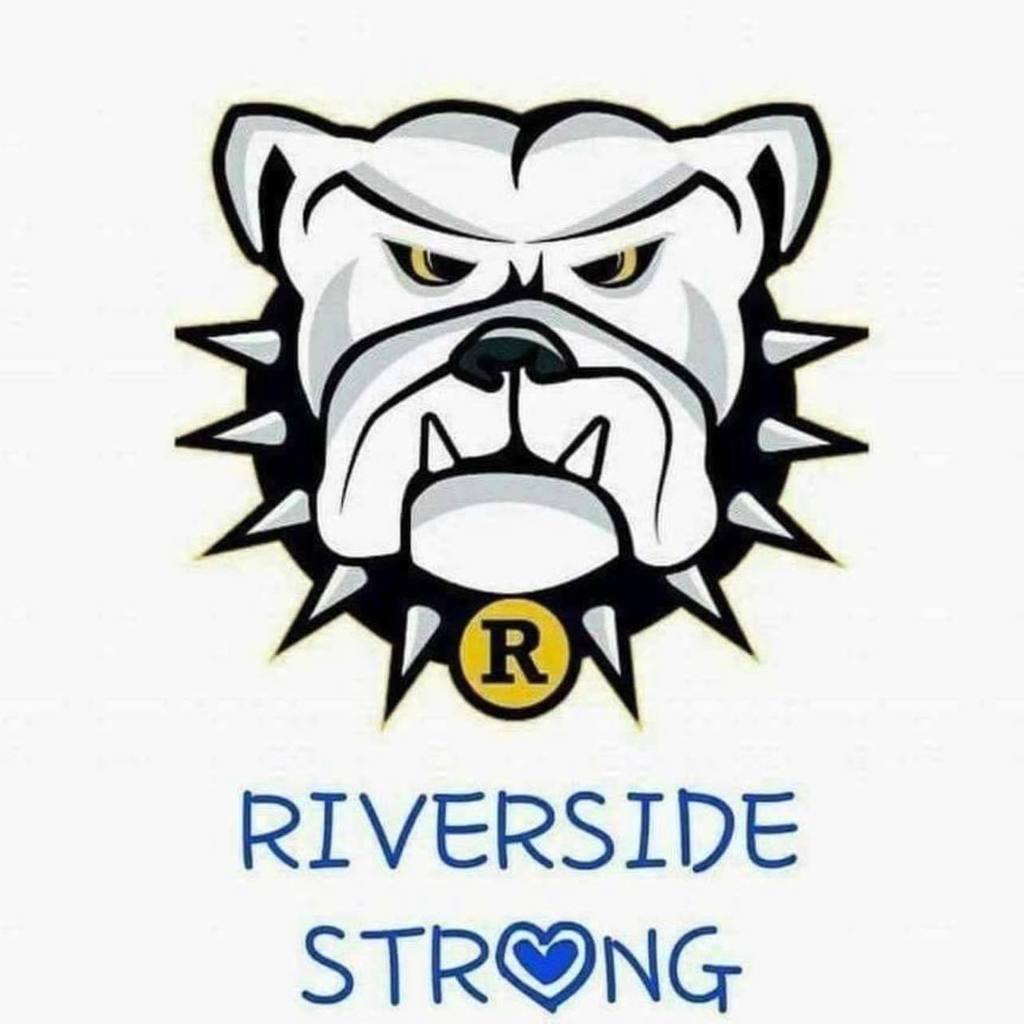 On Thursday, April 13th, Riverside Elementary Principals Cabinet will be distributing the Riverside Strong T-shirts. Distribution will be at the high school parking lot starting at 5:30 until 7pm. If you are needing special arrangements to pick up your shirt please contact Kate Pattarozzi at 531-203-3553 or via Facebook. We are so proud of our community and the support they have showed the Applegate family during this tragic time. #WeRRiverside #GreenOutForGabe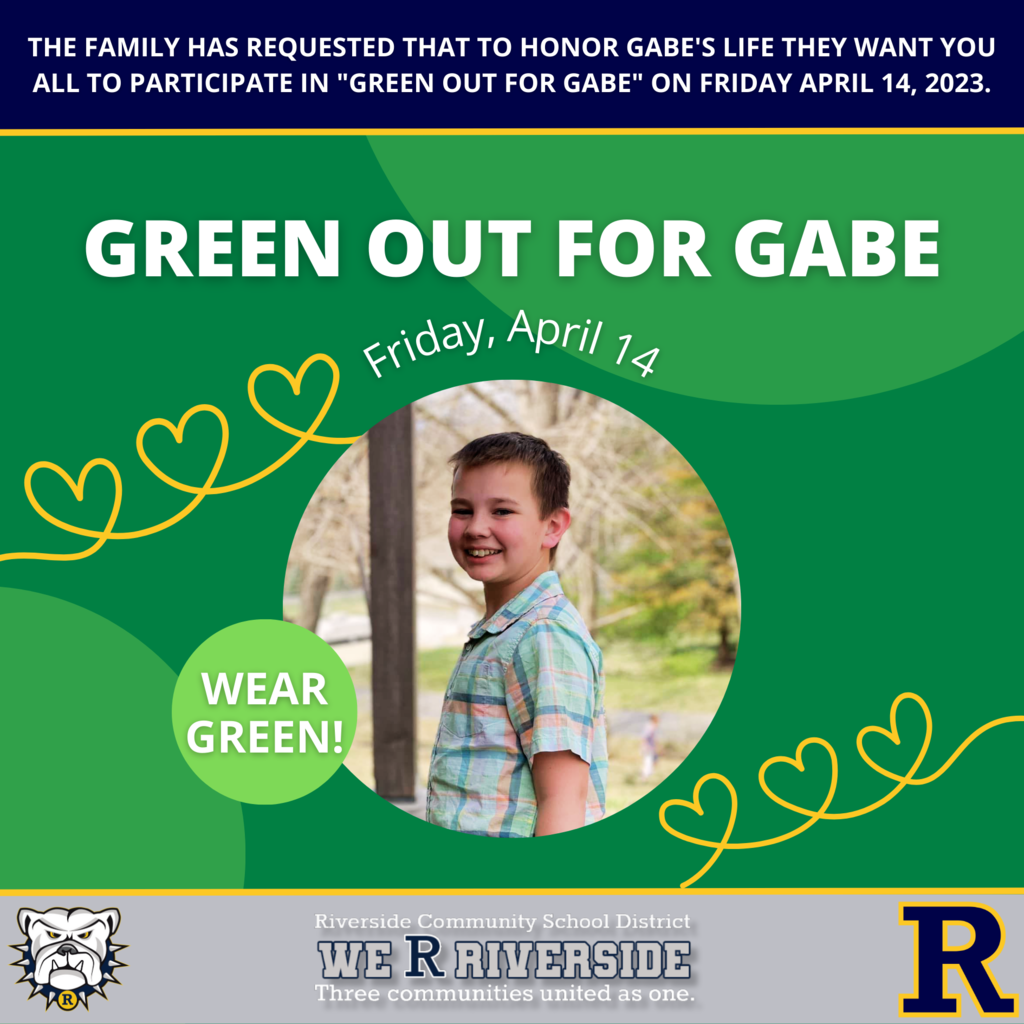 Friday's Boys/Girls Golf meet at home vs. Underwood has been moved up to a 3 pm start time. #weRRiverside